OVER 30 YEARS EXPERIENCE IN TIMBER AND TEXTILE FIRE RETARDANT TREATMENTS FOR DOMESTIC AND INTERNATIONAL MARKETS.
OVER 30 YEARS EXPERIENCE IN TIMBER AND TEXTILE FIRE RETARDANT TREATMENTS FOR DOMETIC AND INTERNATIONAL MARKETS.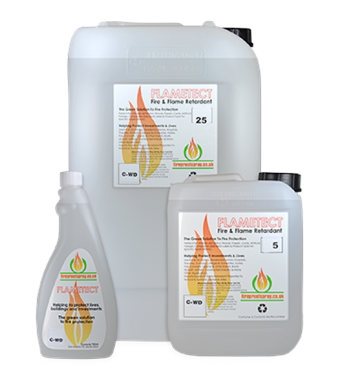 Flametect | Specialized in fire retardant solutions
Flametect Nederland is a specialized company in passive fire protection and coating systems, we believe that we have one of the most competitive and quality products.
We supply protective coatings, specialized environmentally friendly products for fire retardants for fabric and wood.
Our products are produced with the greatest care in The United Kingdom. The performance of the fire protection products has been verified by internationally accredited UKAS and UL laboratories in the United Kingdom, United States and Germany.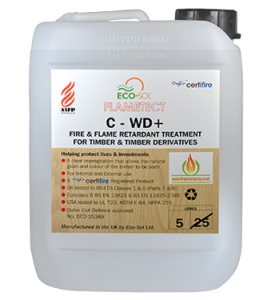 Flametect | praktische ervaring in brandvertragers
We distinguish ourselves from our competitors because we are not just retailers or dealers. We have hands-on experience in applying and testing a variety of materials, including decorative and technical textiles, indoor and outdoor, military and event tents. Our experience is second to none and we have a wealth of experience advising our customers on the correct application and technical advice.
Flametect C-WD [NEN-EN 13501]
Fire retardant for wood and terraces
For indoor and outdoor use on cladding, terraces, partitions, log cabins and sheds.
A clear flame retardant impregnation treatment for wood and wood products is available.
Flametect C-WD is a clear, colorless and odorless impregnation treatment. It does not discolour. Suitable for hard or soft wood & other wood-derived materials. It leaves no visible shine and dries to a natural finish.
The only product of its kind that has been tested in the UK by Element (formerly Exova) Warrington Fire to BS475 Class 0 and 1 BS476 Class 0 and 1 Certified and Euroclass B EN13501-1 2007 + A1. Class B. Tested in the United States ASTM74 / UL723 / NFPA255

Flametect Nitro
For synthetic and natural textiles
Nitro is the only flame retardant product available that has been independently tested by the Institute for Skin and Product Evaluation for dermal response with complete success. Flametect Nitro is skin friendly.
Multi-Purpose: Use of synthetic or natural materials, preferred for clothing, carpet and any item that may have a metal element or embellishment, such as curtains with gold or silver thread or metal furniture that may be affected by a corrosive flame retardant.
Our products are designed to be easily applied using simple DIY skills or we can hire professional spraying teams for larger projects.
Flametect C
Spray for natural materials
Ideal for natural fabrics (cotton, linen and wool), materials based on paper and cardboard. Often used on hay and straw.
Certificate of performance supplied with every order
This product has a high active solids content of 30% compared to about 15% of our competitors' products. This means it goes further and you don't need to saturate the treated material. This product is water soluble, so not for outdoor use or subject to weather influences (see Flametect Nitro D).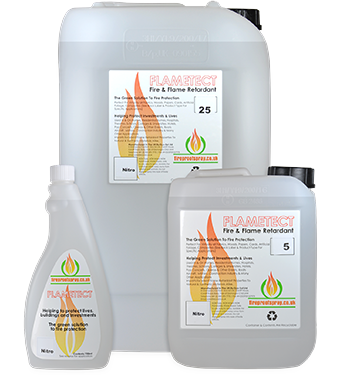 Flametect Nitro-D
Water resistant spray for natural and synthetic materials
Flametect Nitro D works by disrupting the burning process, when heated extinguishing gases are formed and a flame-retardant carbon barrier is formed that prevents flame spread.
Flametect Nitro D contains a water- and UV-resistant binder, making it weather and water resistant, preventing leaching during wet weather and cleaning processes.
Flametect Nitro D is a non-toxic, non-hazardous formula that is easy to apply.